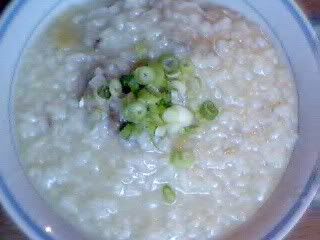 It's getting colder out there.
It's a reminder that Fall is here and Winter is knocking on the door. So I was in a comfort food mood today. Using what I had on hand, I was able to whip up a nice pot of
Arroz Caldo
. They had a nice sale on chicken breasts at
Kroger
the other day, so that also went into the arroz caldo.
Here is what I put into it.
1 medium onion, diced
5 cloves garlic. (I ♥ garlic. If you're not so keen on it, reduce, but put no less than 2 cloves.)
ca. 1/2 inch piece of ginger, cut into fine matchsticks
2 chicken breasts, skinless and boneless, cut into bite-sized chunks
ca. 8 cups water
ca. 2 cups brown rice
patis
, to taste. (I put in 1 tbsp.)
Freshly ground pepper, to taste.
Heat a large enough pot with oil and sauté the onions, garlic, and ginger until the onions are translucent. (I actually did this over medium low heat and let it sit there and sweat whilst cutting up other things.) Add the chicken and stir-fry until the chicken turns opaque. Add the rice and stir until the rice is coated. (I used brown rice because that's what I happened to have on hand. The best rice for this, IMHO, is the
Calrose
rice, or any other medium-grained rice, although in the past, I've also used Jasmine rice successfully.) Add the water gradually whilst stirring. Cover and let simmer until the rice is cooked.
I just put the whole thing on low and let the pot do its magic. Once done, serve into bowls and add
kalamansi juice
or lemon juice to taste. Also add patis or salt and pepper to adjust for taste. Optional: garnish with sliced green onion (the green bits only) and toasted garlic pieces.
I've also made up an onion-free batch for my friends, one of whom claims that she loves onions, but onions don't love her. They have a pair of kalamansi trees (which I hope they've brought inside their spacious sun room as we've started to have some frosty mornings here), so we'll be able to enjoy fresh kalamansi juice with our arroz caldo.
One other comment, concerning the rice. Because I used brown rice, I increased the rice:water ratio to 1:4. I believe a 1:3 ratio should be sufficient if you're using white rice. But this is one thing you would have to experiment with when doing this on your own.
IMHO, the most characteristic flavour of Filipino style arroz caldo is the ginger/patis/kalamansi juice combination.
Enjoy!
And if you make this, let me know what you think by leaving a comment in the combox (or if you're reading this on Facebook or on LiveJournal, leave me a comment there as well).